Global sea level has risen about 8″ since 1880 and the rate of rise is accelerating.  Scientists (conservatively) expect roughly 2 to 7 more feet of SLR this century.  As this map shows, Sea Level Rise (SLR) has and will continue to impact Sandy Neck and Barnstable Harbor.
This link will direct you to  the NOAA Sea Level Rise Viewer
Fortunately, Barnstable Harbor's large tides will, to some extent, mitigate the impact of SLR.  Nevertheless,  with climate-change and the associated increase in intensity of coastal storms, storm surges of 10+ feet may become more frequent.  We don't have to travel too far into our memory banks to visualize the damage to New Orleans resulting from the storm surge associated with Hurricane Katrina.
Dredging schedules and Sand Management Plans will also be impacted by SLR and storm surges.  In Sandwich, Town Neck Beach's recent (2015) sand replenishment project was largely erased by winter storm "Jonas" just days after it was completed.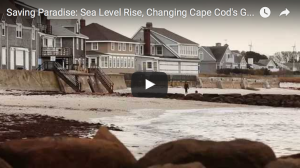 This 10 minute video produced by the Association to Preserve Cape Cod articulates the impact that SLR and storm surge has already had on communities around the Cape Cod.  Septic systems and groundwater will be affected by SLR as the entire water table rises with SLR.
Cape Cod Commission's 208 Plan is addressing the development of an integrated water and wastewater management system across Cape Cod towns.  The Town of Barnstable has organized a Water Resource Advisory Committee to establish plans for Barnstable.
Lastly, the Social & Environmental Research Institute completed a study Planning for Climate Change Impacts on Shellfish in Wellfleet Harbor.  This website summarizes the information developed by a Working Group on Climate Change impacts on shellfishing in Wellfleet Harbor. The Working Group met from 2013 – 2015 to discuss and learn about the following :
threats to shellfishing in Wellfleet Harbor from climate change
the role of shellfish in mitigating impacts from climate change and other environmental hazards in Wellfleet Harbor
strategies to increase the resilience of Wellfleet and its shellfishery in a time of climate change.
It is incumbent upon us to take the steps necessary for coastal resiliency in the face of our changing environment.  These changes will have economic and social as well as environmental impacts upon our community.  We cannot simply bury our heads in the sand!